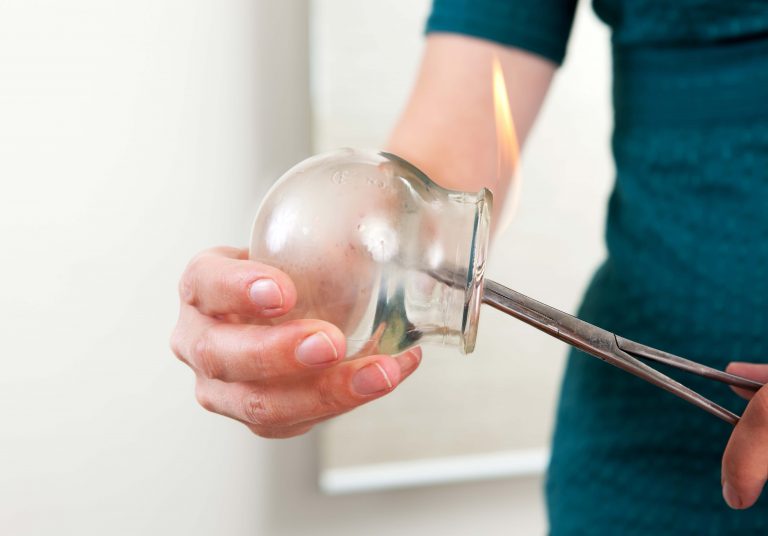 Improves local circulation, increase the body's anti-inflammatory capabilities, release fascia adhesions, and stimulate the endocrine system.
Fire Cupping is a therapy that uses the placement of glass cups on the surface of the skin. A heat source is used to create suction, causing instant movement of your body's circulation. The tension on the surface of the skin is used to intentionally improve adhesions in the body's connective tissue, as well as improving tightness in the muscles. By pulling toxins in the tissues up the to the surface, the local areas are flushed with fresh, oxygenated blood. This fresh blood flow reactivates the body's healing mechanisms that reduce inflammation, increase endorphins (the body's natural pain killer), and alleviate pain. Every patient is unique and it is important to assess whether cupping therapy is appropriate on a case by case basis. When done correctly, and at the appropriate times, Fire Cupping can be a powerful catalyst in your body's healing.
Montserrat is an outstanding practitioner of acupuncture -- highly skilled, professional, incredibly effective.  I recommend her without reservation.
I have been receiving acupuncture from Montserrat Gonzalez since May 2017.  She's extremely kind and knowledgeable, and each session is tailored specifically to your body's needs.  I only wish I'd met her sooner!
I have been receiving monthly treatments for over a year with Montserrat and I simply can not say enough about the benefits I have received.  Montserrat is truly my favorite "wellness" professional. I feel truly confident in every aspect of her treatments.
Montserrat is a true healer! She's receptive, knowledgeable and intuitive. Her ability to "tune in" to you and your body's needs is one of her many remarkable attributes. See for yourself! She's amazing!
I've been dealing with a nagging shoulder problem for so long and have explored all sorts of healing techniques to feel better. After just one cupping and acupuncture session with Montserrat, my injury and my whole body feels better than it has in quite some time. I'm a total believer in this practice! Montserrat and Lyndon could not have been more welcoming, informative, and kind throughout the entire process. I can't wait to be on the road to feeling at home in my body again!
I highly recommend Montserrat. She is professional and quite knowledgeable. I always feel she has my best interest as her focus. She has helped me considerably. I was reluctant before my first visit. No longer! Give her the opportunity to assist you with your wellness. You will not be disappointed.