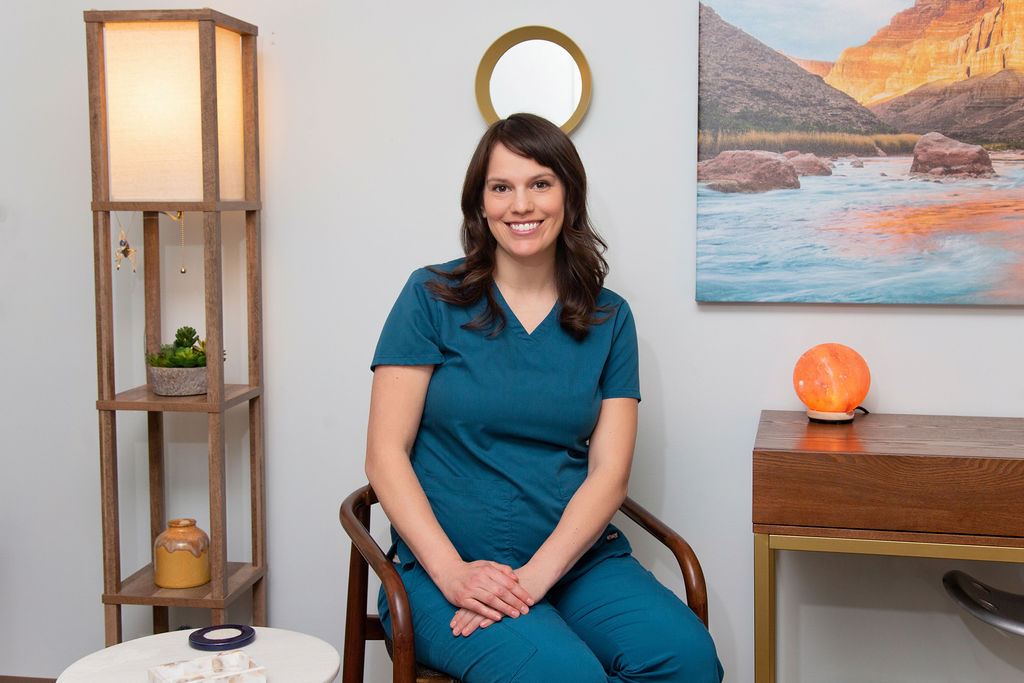 Lindsey Chel, LMT, Certified Arvigo® Practitioner
Licensed Massage Therapist and Certified Arvigo® Practitioner
Lindsey has worked with women of all ages providing bodywork and alternative healthcare since 2011. She is a Certified Arvigo Practitioner, specializing in the Arvigo Techniques of Maya Abdominal Therapy, Supporting Pregnancy and Spiritual Healing. Lindsey has completed a 3,000+ hour program of study in Kototama Life Medicine, a style of Japanese acupuncture which has been passed down from generation to generation through clinical apprenticeship.
After several years of practicing hands-on bodywork within the context of Arvigo Therapy, Lindsey found herself drawn to acupuncture because it provided a full system of medicine which encompassed many traditional methods for both diagnosis and treatment. Both lineages in which Lindsey has studied, Arvigo Therapy and Kototama Life Medicine, have a rich history and are grounded in decades-long apprenticeships with traditional healers. This has provided Lindsey with an expansive understanding of how to best bring people back into harmony with themselves and their environment.
Lindsey enjoys working with women throughout all stages of life, from the beginning of menses to menopause. She is captivated by the transformations that women make throughout their life as each new stage offers great insight, unexplored opportunities and life-giving challenges. She finds the witnessing of these movements to be of great importance for her own growth as a woman and uses each encounter to offer better, more compassionate care for herself and her clients.
Since Lindsey is still in the final stages of becoming a Licensed Acupuncturist, she spends quite a bit of time studying for her board exams (which she will complete in 2021). When she isn't reading a book or in the clinic, you can find her walking in the park and admiring the wonders of nature with her partner Anthony and their favorite pup, Topanga.
The insight I received from our sessions continues to inform me and I really value the daily self-massage time where I can tune-in and align more fully.
Receiving sessions with Lindsey allowed me to grow in health physically, mentally, and spiritually. Her ability to listen, understand and respond with kindness improved my abilities, self acceptance, and decision making. She's polite, professional and comfortable to be around. It was easy to trust her to choose the correct treatment and she explained things to me very clearly, concisely and accurately.
Lindsey has been a wonderful healer to me for over 5+ years. Her treatments are very nurturing to my body but also to my mind. I always appreciated that she is very generous with her knowledge and that she shares some of the useful techniques for me to do it at home. I always leave her session with lighter and recharged body and mind.
I saw Lindsey while I was 8 months pregnant with my first child and then a few months after birth and it made a tremendous difference in my delivery and recovery. Each appointment she does a thorough intake and customizes treatment based on your needs. I loved the abdominal massage, pulse/heat points and stretching. She also helped with my gut health by suggesting Ume Plum concentration to my diet. She's a wealth of knowledge.
I have gone to Lindsey several times for abdominal massage and can not speak highly enough of her and the services she offers. Lindsey has a real passion for healing and it shows. She takes the time to listen and answer any questions I might have which I really appreciate. I always leave our appointments feeling balanced and renewed.
I have been doing treatments with Lindsey for several years and every experience has been rewarding mentally and physically. If I could describe Lindsey in a few words, it would be compassionate, consistent, and cultured. I look forward to many more appointments with her healing hands.
Lindsey has a very welcoming and loving energy. She created a very peaceful and safe space for me when I got my massage from her. She really tries to understand what your body needs, and works with you. After the massage, not only did my body feel like it was floating on the water, I felt a sort of emotional release. I am looking forward to seeing her again.